Common Manifestations of Employees' Anticipation of the Unknown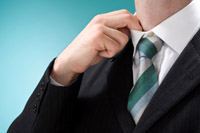 The past few years have brought many changes to companies, good and bad. Although the economy seems to be turning around, many organizations will still be facing major changes to come, mostly for the best. As a leader, realize that employees react to organizational changes in a variety of ways—some positive and some negative. It is important for managers and supervisors to understand that these reactions are simply a normal part of the process employees go through during periods of change. The following are some typical responses to be aware of:
"Not me!"
When employees are asked to do a different job or change the way they currently do a particular job, they may respond by saying, "Not me!" They may suggest that someone else is better suited for the job, or deny that they themselves are capable of making the proposed change. This initial reaction is a result of the satisfaction these employees have with the status quo, and their fear of the unknown.

"What will this do to my job security?"
It is natural for employees to view change first from the perspective of their own job security, and second from the needs of the organization. Employees can't help but wonder what will happen to their jobs if technological advances are introduced or if downsizing creates organizational restructuring. Will the changes result in less work for them, or even do away with their jobs altogether? Employees are also concerned about what financial impact the changes will have on them.

Anger
Some employees are so resistant to change that they become frustrated and angry. Their anger may be repressed, causing an increased stress level; or overt, resulting in emotional outbursts. Whether repressed or overt, anger is a typical reaction when employees feel a loss of control over their work environment, or worry that their job security is being threatened.

Gossip
Gossip, always an organizational challenge, often escalates during periods of change. Employees who feel a loss of power and control may respond with frustration, anger and disbelief—and resort to vicious gossip or "back-stabbing" activities. Unfortunately, this gossip is detrimental to a positive forward thrust during change.

"Who's in charge here?"
When a company is restructuring, it is natural for employees to question leadership. Employees who will be working for a new supervisor when the change is implemented may experience difficulty changing their allegiance from one leader to another. And when employees have not been kept in the communication loop and thus do not see the positive results of the changes, they are likely to question the wisdom of the new leadership.

Panic!
Some employees, finding comfort in a predictable routine, panic at the mere mention of change. They worry about changes in the way they normally proceed with their jobs. They may resist, not out of stubbornness, but out of fear about how the changes will impact them personally. They may be too plagued with panic to deal rationally with the "new regime," and some may actually become physically ill.

"I quit!"
There may be employees who elect to quit rather than make the needed changes. Unfortunately, changes going on in one organization are typical of those going on in other organizations. Electing to stand on one's principles and fight change by quitting often makes the point, but usually at a cost to the employee, not the organization.
The following positive responses to change usually come from employees who feel a high degree of self-esteem, personal competence and self-confidence. These employees typically have the ability to remain open-minded in response to change, and to view it as a positive thing—for them personally and for the organization. When in alignment with their supervisors, employees with this positive attitude can help support and sell organizational change to other employees. Here are some typical positive responses:
"This is a challenge!"
Some employees view change as a challenge, but are sure they can rise to the occasion, since they feel they have what it takes to be contributing team players when the change affects their work world. They remain open to new ideas, ask questions and feel confident in their ability to acquire the knowledge needed to complete the task. They exhibit a "can do" attitude in their approach to change. They may admit that the task is difficult, the procedure a bit cloudy, and the outcome unknown or questionable, but they are committed to rising to the challenge!

Enthusiasm
Some employees naturally approach life and challenges more enthusiastically than others. Enthusiastic employees embrace change. Instead of trying to pick apart a proposed change and find all the ways it won't work, they see it as a natural part of an organization's evolution. Supervisors lucky enough to have enthusiastic employees need to support and nurture them, because their enthusiasm can infect other employees and help make the implementation of change much more palatable for everyone.

"Maybe I could adjust to this change . . . ."
Not all employees embrace change enthusiastically or jump out of their seats ready to accept the challenge. Some watch from the sidelines–but remain open-minded. After a period of observation, they may agree to give the change a chance. While they may not be eager participants in the change process initially, they at least acknowledge the possibility of adjusting to the change. They express a willingness to learn new techniques and procedures and do not sabotage change activities.

Positive Vision
Finally, there are employees who look at the bigger picture and visualize the possibilities. Their positive attitude toward change is based on a broader awareness of the marketplace, the specific industry and their competitive position in it; and an absolute trust in their company's leadership. Because they feel positive about the company's future, these employees generate a positive vision to their coworkers and encourage them to have trust during times of change and confusion.
As a leader, what are some other responses that you've seen employees have to an organizational change? How did you help them cope?