For nearly thirty years, executives, managers and employees alike have marveled at Steve Jobs' ability to innovate. After all, Jobs did not only foresee the future of technology (and music, and animation), he created it. It's clear that Jobs was one of the most visionary leaders of our times. But, what most people don't realize is that if it were not for his dedication to communication, the way we interact with technology today would be vastly different. His excitement when introducing new products mesmerized customers. His commitment to specifically communicating what he envisioned motivated employees at all levels and made revolutionary products and services possible.
With poor marketing and ineffective organizational communication, his visions would have remained just that: visions.
Looking at the way that Jobs' visions were turned into reality serves as a reminder of the importance of communication. The picture he had in his mind for the future was brought to life by his ability to trickle communication of his vision down to all levels within his organizations. It is difficult, if not impossible, for employees to arrive at their destination if you, their boss, are not crystal clear in providing them with the directions and road map detailing their journey.
Steve Jobs' clear communication of his vision is also consistent with what we have found in our employee opinion survey results.
In our twenty years of conducting employee opinion and engagement surveys, we have collected data from 100,000 employees and have noted significant variances between the Overall PBS Benchmark (all employees surveyed) and the Best-of-the-Best PBS Benchmark-the top 25% percent of organizations surveyed. (Click here for more information on PBS Benchmarks)
One thing that has remained consistent over the years is that the Best-of-the-Best PBS Benchmark is significantly higher than the Overall PBS Benchmark in the communication category. Here's what the Best-of-the-Best organizations do better:
First, leaders in the Best-of-the-Best organizations do a better job of telling employees about their vision for the future. Like Jobs and the leadership at Apple, the Best-of-the-Best leaders clearly define goals and ensure that each employee understands how their contributions help the leader and organization achieve the vision. For example, executives at Apple who met with Jobs as frequently as once a week, gave every junior level designer direct regular feedback on projects. This way the junior designers had a direct line to the top to ensure the project's alignment with the overall goals. Here's how our two Benchmarks compare on the question regarding clarity of the organization's goals and future direction: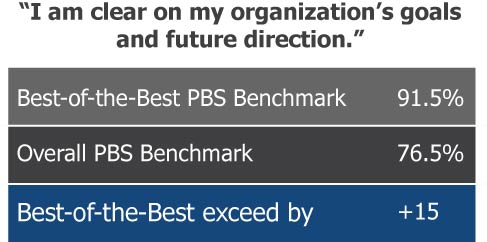 Percentages in the benchmarks are the number of employees who either "strongly agreed" or "agreed" in response to a statement in the survey.
Second, not only do employees need to be clear on the organizational goals, they also need to be clear on how their job relates to those goals. Even though Apple has about 50,000 employees, each employee is crystal clear on how their job relates to the organization's vision and what exactly they are expected to do next. According to Forbes.com, "Internal Applespeak even has a name for it, the 'DRI,' or directly responsible individual. Often the DRI's name will appear on an agenda for a meeting, so everybody knows who is responsible."
Apple's organizational structure is relatively straight-forward which employees have said makes communication and projects more efficient and successful. According to one insider, "It's not synergy that makes it work. It's that we're a unified team."
Looking at the results from the statement below, it's clear that employees at the Best-of-the-Best organizations also understand the importance of employees seeing themselves and their tasks within the big picture.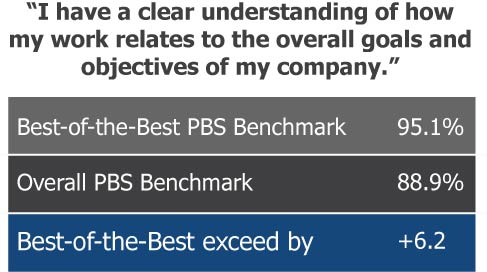 Third, although most companies hold regularly scheduled management meetings, when the Best-of-the-Best leaders exit the meeting, they are significantly more likely to make sure they communicate important information to their employees.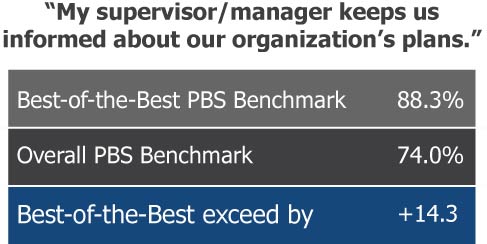 Fourth, although vision is usually the responsibility of senior leaders like Steve Jobs, the challenge for these leaders is that they will never be fully effective at getting the message down to the front line unless supported by managers and supervisors who place a high value on keeping their employees in the loop.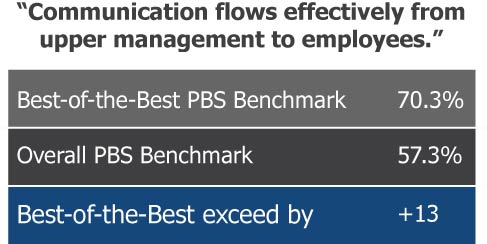 Finally, reward innovative ideas. Communication, vision and innovation are three strong components of a successful business in any industry. Every year at Apple, Steve Jobs chose the Top 100 employees to accompany him to a three day strategy session. This Top 100 were not chosen based on rank, but on individual contributions and it was considered a privilege to attend. The Best-of-the-Best organizations are clearly in agreement with the importance of rewarding contributions based on our findings: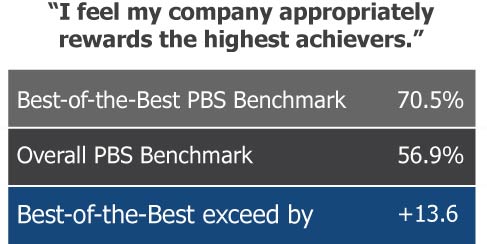 To ensure that you are on the right track to successfully communicating your vision to employees, follow these tips:
Make sure the vision is more than a framed document hanging on the wall. Employees are more apt to act off what they see in the hall versus what they read on the wall. It's not good enough for senior leaders to develop a powerful vision. They need to make sure that the vision is clearly communicated to every employee, along with the goals that will help bring the vision to life. When people are clear on their destination, and are given a map to get there, as well as a tour guide communicating along the way, they will not only support the expedition, but usually will really enjoy the trip.

Meet often. Every Monday Steve Jobs would meet with his executive management team to discuss strategy and current projects and on Wednesdays he would meet with his marketing and communications team. It's not always necessary to hold meetings this often but it is important to keep the lines of communication open.

Plan a positive delivery. Part of the reason behind employees' and customers' excitement over Apple's products were due to Jobs' delivery of his vision to employees and his delivery of the product itself to customers. He was always positive and excited, which is contagious. Your attitude, when delivering the message, will in a large part determine the response of your employees. If you present the idea as positive and exciting, your employees will be more positive in their response and more apt to buy-in to what is being proposed. If you express doubt, we guarantee you that your employees will quickly support you in finding ways to prove that "it" won't work and is just another one of management's off the wall ideas.

Place a high value on two-way communication. Get in the habit of actively seeking employees' thoughts and opinions, especially prior to making decisions that impact their work. You'll experience fewer surprises along with greater employee engagement and productivity if you consistently encourage your employees to think and provide their input to help you and your team make the best decisions possible. Look at the significant difference between responses to the following statement:

Over-communicate. In this interconnected, global market place, keeping pace requires change after change. Most employees understand that to be successful, plans will frequently change. What they don't like is being blindsided because they did not know that the plan had changed. Make it a high priority to provide timely updates when plans change.

Choose your words carefully. Know your audience and appreciate their background and level of understanding. While you would never knowingly "talk down" to employees, make sure that the examples you use and the words you choose are understandable and appropriate. Words and concepts that you routinely use in management circles may not be the right ones to use when talking with employees. Check for understanding and make adjustments to your delivery, when needed.
Great leaders do a great job of communicating vision and values. Make it your personal responsibility to tell the right people, the right information, at the right time – all the time.