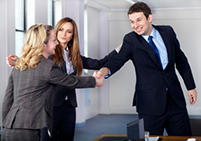 A client emailed us asking if they should get a third party involved in the short sale of their home. This was a great question. On a short sale, which is when a homeowner is selling their home for less than they owe on their mortgage, there are pros and cons of involving a third party.
A great definition of negotiation comes from Gerard Nierenberg; he states that when two or more people communicate with the intent of changing the relationship in some way, they are negotiating. Another definition of negotiation is a search for common ground. Just the other day, my twenty-two-year-old son, who is gainfully employed in the United States Navy, asked me if I would pay for his cell phone on another two year contract. What was my response to this negotiation, "NO! NO! NO!"? Actually, my first tactic was, "You have got to be joking with me, right?!" But, being a great dad, I did let him keep his same phone number and helped him set up a contract in his own name. In the end, he was happy because he is now establishing a little credit in his own name and does not have to ask me when he wants to change phones.
There are many types of third parties who could be utilized in a negotiation. A few of the most common are judges, lawyers, and agents.
While the first three examples of common third parties are widely known and understood, the roles of the following third parties are sometimes misunderstood. Here's what they are and what they do:
Mediators: Help parties develop mutually satisfactory solutions and strengthen relationships. It has been our experience that about 60 percent of the time, mediators are able to achieve an outcome and approximately 75 percent of people involved in any mediation are happy with the outcome.
Consultants: Are skilled and impartial third parties who attempt to facilitate problem solving through communication and analysis.
Arbitrators: Have the authority to dictate an outcome. A big advantage of using an arbitrator, whether voluntarily or compulsory, is that negotiations they are involved in always results in a settlement. Also, arbitrators are actually more powerful than judges because a judge's decision can be appealed. However, both parties are not always happy.
Conciliators: Someone acting only as a communication conduit.
So, back to the original question: when should you use a third party to negotiate on your behalf? The following five situations are all opportunities to involve a third party.
When the situation is either very stressful or very emotional. Most people do not think as clearly or as rationally when they are stressed or emotional. If the negotiation has any significance, getting someone who can "stand up in the balcony" as an unemotional third party will be to your advantage.

When you lack technical expertise on what you are negotiating. When you are negotiating in a topic on which you lack technical expertise, while your counterpart has strong expertise, we highly recommend getting a third party involved to balance the playing field.

When you can't get your ego out of the way. The classic example here would be marriage. Some marriages end in divorce because one spouse cannot say, "I am really sorry I did or said that." Sometimes a good counselor or third party can help an individual or couple get their ego out of the way and rebuild the marriage. If the marriage is saved, the third party counselor was a bargain.

You are motivated to achieve your goals and produce an acceptable outcome. When you want something really bad, your emotions and desire can undermine your ability to obtain the best outcome. A real estate agent who truly has your best interests at heart, will stop you from making concessions or doing something that is not in your best interest.

When your strategy is not working. The other day, my eighteen-year-old daughter snapped at me when I asked her a question. I knew that no matter what I said, I was only going to make matters worse. My brilliant strategy was to get a third party involved. I went to my wife of 27 years, Kathleen, and had her go to Brooke and accomplish my goals. It worked GREAT!
So should our client involve a third party in helping them to short sell their home? Our answer in this specific situation is "no." We say no for several reasons. One, there are a lot of people out there making promises that they will help distressed borrowers save their home from foreclosure or help them make a short sale. Many of those third parties who have come across with the intention to help, have left the homeowner in a financially worse situation. Second, this homeowner has open communication with the mortgage holder and feels like they are barely making progress. Third, whatever third party you bring into this deal is not going to work for free. They are going to charge an additional fee of 1 to 2 percent, or a minimum $3,000 flat fee which is only going to make it harder to get the bank to concede. In fact, the bank will most likely agree to the short sale price, but not agree to pay the third parties' fee. That leaves our client on the hook for an additional $3,000.00.
In this case, a third party should not be hired.
You may also like: