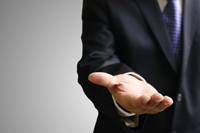 In the last few weeks, I've heard two great stories regarding employees asking for a raise that boggle my mind.
The first story is from a manager who told me that an employee who was on a corrective action plan came into his office and stated, "Since I'm handling two additional assignments, I feel I deserve a raise." This manager correctly handled the request by responding, "We do not consider requests for raises from employees who are currently on corrective action plans."
The second story comes from a CEO who told us that one of her employees came to her and announced, "I'm not happy working here and I'm thinking about leaving. The only way I would consider staying is if you were to give me a 30 percent raise." In this case, the CEO felt that she couldn't live without the employee and gave in, giving up 30 percent more salary to ensure the employee stayed with the company.
Asking your manager for a raise is a high risk maneuver. Although people tell employees that, "It never hurts to ask," the reality can be harsh. If the answer is no, the manager could harbor resentment about being asked for a raise by an ungrateful employee and the employee could be disheartened because the manager doesn't see the value in their contributions. When this happens, the negotiation has a high potential to end up in lose-lose.
At some point in their career, every manager has had an employee come to them and ask for a raise. It's usually requested at a time when the manager hasn't had time to think through an appropriate response to the request. So what should they do?
Here are nine strategies for successfully countering or negotiating with an employee over a requested raise:
Ask good questions: "What makes you feel that you are not compensated appropriately?" "Do you have supporting data that confirms you have taken on additional responsibilities, or that you are not compensated adequately based on your experience or compared to people in your similar position?"

Don't reward poor performance: The worst thing a manager can do is give a raise of any amount to someone who falls short in meeting performance expectations. Keep in a mind that a raise is a reward, not a given. If you say "no," the employee will not be happy. That means that you need to be proactive in dealing with performance related issues, and if the employee doesn't significantly change their behavior, share them with a competitor.

Provide a conditional no but build them a bridge to the future: I like this strategy the most because it makes the raise dependent on conditions. A great way to phrase this response would be, "I can't give you a raise at this time, but if you successfully complete these additional assignments on time, then I feel a raise would be warranted."
Give them a reward in heaven: Another option is to tell the employee that you feel they're doing a great job, but since additional money is not in the budget for raises, you're unable to provide them with a raise at this time. BUT, next year, you'll make sure that he or she is taken care of financially.
Kill them with facts and statistics: Pull out the market data and compra ratios that tell the employee they are adequately compensated for the job they currently do. If you find data illustrating that they are over compensated, let them know you're hesitant to bring up their request with Human Resources for fear that someone in HR will redline or red circle their position, making them ineligible for even a cost of living raise.
Make sure the employee considers the entire paycheck: In today's world, benefits are quickly becoming a significant expense to organizations. When you show an employee the value of their health care plan, retirement benefits as well as the flexibility you provide in both leadership and their schedule, an employee needs to determine the value of those items that are not included in the paycheck. If an employee threatens to leave over a five percent raise (the average raise that employees leave companies for) when they have health and retirement benefits that contribute to 10 percent of their salary or more, the decision regarding the full pay package needs to be revisited.
Tell the employee that you'll think about their request and get back to them later: If you feel you're unprepared to provide an objective response or to make a good decision, you're much better off buying yourself some time rather than providing a half-thought out answer on the spot.
Give them a raise before they ask: My goal is to think about my employees and the value they bring to the organization, and give them an appropriate raise before they ask. No manager wants their best employees to leave.
When in doubt, ask yourself: How easy would it be for me to replace this person if they left because they were not happy about me saying "no" to a raise? How much would it cost me in the search for a new employee or in loss of business? Some positions are much easier to replace than others.
Will the employee be successful in obtaining their raise? It all depends on the timing of the request, how happy the supervisor is with the employee's performance, and who is least committed to the relationship. As always, the side who is least committed to the relationship holds the most power.