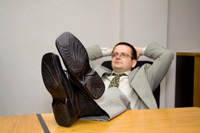 In last's month's Master Negotiator, we talked about the importance of having confidence when you negotiate and, specifically, what you can to do build an even higher level of confidence. This month, we are going to explore what happens when you take one of your strengths, confidence, and turn up the volume on it to the point it becomes overconfidence and undermines your success as a negotiator. Unfortunately, there is a very fine line between the success confidence brings to the table and the fall to death that can occur when one negotiator is overconfident.
As a negotiator, when you are overconfident, the following behaviors may undermine your ability to build a relationship with your counterpart and create a win-win outcome.
Overconfidence comes across as cocky and arrogant. Overconfident negotiators do not feel a need to value their counterpart's opinion, needs and goals or take the necessary time to build a relationship where the counterpart is motivated to help create a win-win outcome. Some negotiators will actually chose a more expensive outcome from a competitor rather than have to deal with an overconfident negotiator who comes across with the same impact quill of a porcupine.

Lack of preparation. When you are overconfident, you tend to believe you already know what you need to know and feel that no additional preparation is needed.

Fewer options. When you exude overconfidence, you tend to believe that your way is the only way and that the counterpart, if they are smart, will see the merit of your ways and agree to your proposal. When you believe your way is the right way, you tend to overlook things like the possibility of competition stepping up to the plate and, therefore, don't take the time to think through options.

Unwilling to walk away. One of the best ways to counter an overconfident negotiator is to take away something the negotiator believes is rightfully his or hers. If you are selling a piece of equipment for $10,000, an overconfident negotiator is likely to offer you $4,000.00 and tell you to take it or leave it. As the seller, your guts tell you this overconfident negotiator is a jerk and you decide that you do not want to sell your equipment to him at any price. You respond, "Your offer offends me and I have decided to not sell my equipment and take it off the market." Overconfident negotiators are not good at losing something they had their sights on and most likely are going to come back at a significantly better price.

Talk more than you listen. Recently I was having a drink in the Delta Club room in Atlanta. A pompous, overconfident jack ass came in and sat next to me. Instead of saying hi and asking what I did for a leaving, he picked up his phone, announced to the person he was calling that he was "alpha dog" and preceded to talk to this person about a deal he was working on. What he did not know is I am working with one of my clients on the same deal. The insights he shared were invaluable in helping my client to strategize their negotiation. Someone needs to tell "alpha dog" that keeping your mouth shut in highly public places may work to his advantage.

Make assumptions and jump to false conclusions. When you are overconfident, you'll do things that don't make sense. You have to believe that all the people involved in the phone tappings at the British tabloid, The News of the World, never thought about the possibility that Rupert Murdock would take the extreme option of closing down the paper. When you realize that the News of the World was less than one percent of News Corps overall profits, the pain that these phone tappings have caused over the last four years make sense that for one percent of the profit, keeping the tabloid around is just not worth the trouble.
If you've received negative feedback during a negotiation, such as your counterpart walking out on you or telling you that you are rude, you may be emitting an attitude of overconfidence. Adjust your behaviors and your negotiations will most likely result in more positive outcomes for you and your counterparts.
You may also like: