For informal negotiation training, most people would not think about watching a reality show. But, right there on the History Channel is a television show that is one of the best at demonstrating what it takes to become a great negotiator: Pawn Stars. By showcasing the daily interactions between the pawn store employees (Pawn Stars) and customers, Pawn Stars can be a perfect example of how to approach a negotiation, as well as how not to approach a negotiation.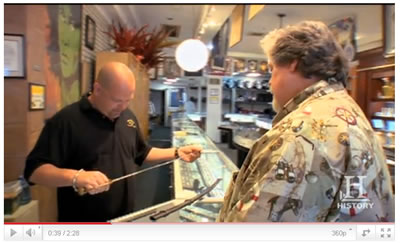 In the video above, the Pawn Stars share tips gleaned from their years of experience of daily negotiations with many different customers. One thing to keep in mind while watching the video and reading this newsletter: these negotiation lessons extend to the world outside of pawn shops as well.
While working on your next deal, follow these negotiation tips from Pawn Stars for a successful outcome:
Treat everyone with respect. This is something that is clearly emphasized by the Pawn Stars. What most of our parents taught us about how to treat others was solid advice in the world of negotiation. If you treat everyone with courtesy and respect, you will have few problems dealing with people and you will be able to finalize more deals. Why be courteous and respectful to a pawn shop dealer? Because they will do equally well without your life-long treasure. If you can't sell your product to a private party, and now, because of your lack of courtesy and respect, the pawn shop worker no longer wants to deal with you, when you leave, you will have very few options.

Do your homework. Before you walk into any negotiation, do your homework. By conducting some research online, you can quickly find the asking price or approximate value of almost anything. Develop as many realistic price comparisons for your product as you possibly can. With good research, you will have a good foundation to develop a reasonable asking price. But, remember who you are selling to when you set your price target or goals. Because the pawn shop is in business to make a lot more money when they re-sell your item, what they are willing to pay for your treasure may be 50 or 70 percent lower than what a private party may be willing to pay.

The importance of doing your homework is shown in the video below as it is apparent immediately who has done their homework and who has not:

Set a realistic price. In the pawn shop world, when you set a price that is significantly higher than what the dealer feels is reasonable, they are likely to counter you with a price that is significantly lower than the product's true economic value. Throwing out unrealistic numbers wastes a lot of time and tends to upset the seller because of their emotional attachment to their product. Be realistic. The negotiation will move faster and both counterparts will leave with positive feelings about each other.

Believe in the value of what you are selling. If you have done your homework, know the realistic wholesale and retail pricing value of your product, then you can confidently state the price you are asking and stand firm if you feel the price you are being offered is unfair.

Be willing to comprise or haggle. In the world of negotiation, it is common knowledge that you should never say "yes" to the first offer. Whatever you are offered, be willing to counter, even if it is a small counter. If you do counter, your counterpart is likely to walk away from the negotiation feeling that they could have, and should have, done better.

Be willing to say "no" and walk away if the price is not right. It's fun to watch how quickly the Pawn Stars will tell someone, "I know what you have holds great value to you. Unfortunately I have no idea how much someone is willing to pay me for that item. And, since I have no clue how much I can sell it for, I need you to sell this to someone else." A great example of this can be seen in the following video where a customer wants to sell a Colonel Sanders' suit:

In a negotiation, the person who holds the most power, is the person who is least committed to the relationship. In this case, because the Pawn Star, is not sure the value of what he is negotiating, he has very little commitment to making the deal. The Pawn Star cares about the product the seller wants to sell him, he just doesn't care about it as much as the seller does and is, therefore, willing to walk away.
Not all of us will negotiate with a pawn shop employee in our lives, but all of us will negotiate.
You may also like: